Last update 7.7.2019 | First published 20.5.2004 | €1 = NOK9.00
Norway has gone Norwegian when comes to the country's reaction towards drivers who violate the low speed limits.
The speed limits are among Europe's lowest, while the reactions are certainly Europe's toughest. Motor roads with two lanes (Class A) may have a max speed of 110 km/h. The rest have a max speed of 90km/h or 100km/h.
The common speed limits outside urban areas are 60, 70 or 80 km/h.
Index : 414% of European mean value
Important numbers :

Limit – km/h

30
50
70
80
90
90
100
110
Fine +21km/h
€944
€944
€711
€711
€711
€711
€711
€711
Fine +41km/h
–
–
–
–
–
€1183
€1183
€1183

LICENSE

(1
56
76
106
116
126
131
141
151

JAIL

(2
76
96
125
136
150
150
165
175
1) 3 months – 3 years
2) unconditional, minimum 18 days
The controls are everywhere, they are done by both radar, laser, and civilian cars (lots of). The civilian cars are next to impossible to spot: They never sport double rear-view mirrors as in other European countries.
Radar-jammers, laser-jammers and detectors are, of course, strictly forbidden.
Norway is the only European country who regularly condemns its citizens to prison sentences for speeds that seem perfectly natural for citizens of other European countries.
150 km/h on a motor road under perfect conditions is enough to land you in jail for at least 18 days – unconditionally.
And remember that any license witdrawal is not subject to any court order as in most other places. The police may even take your license on the spot (you have to leave your car by the road) for 14 days if they only suspect that you have committed a crime that might lead to license withdrawal.
CROSS-COUNTRY FINES:
Member of the European cross-country fine cooperation. Any traffic fine may arrive at your home address.
Fines may automatically be shared between Austria, Chech Republic, Cyprus, Denmark, Estonia, Finland, France, Germany, Hungary, Netherlands, Latvia, Lithuania, Luxembourg, Norway, Poland, Portugal, Romania, Slovenia, Spain, Sweden and United Kingdom.
| | |
| --- | --- |
| Limit | Corrected |
| 30 km/h | 33 km/h |
| 50 km/h | 53 km/h |
| 80 km/h | 83 km/h |
| 100 km/h | 103 km/h |
| 110 km/h | 114 km/h |
Tolerance:
To the right are the rules for fixed speed cameras.
On roads with a speed limit up to 100 km/h, the drivers can be fined when they drive more than 3 km/h over the limit. On roads with speed limits of 100 km/h or more, the margin of error is 3%.
If you are lucky, police may apply a tolerance of 5–10 km/h, and up to 20–25 km/h on motorways – but only when driving conditions are favourable.The good news is that you will find no speed cameras where the speed limit is above 80 km/h.
For other types of measurement other rules apply. If you get measured by a following police car you will only get a safety margin of 20 meters. Which is very low and breaks with any accepted rule of safe measurements. I once tried to have a serious dialogue with the Norwegian authorities about this. In vain …
Thanks to Ørjan Torheim in Bergens Tidende for more info on this (in Norwegian, 2017).
Fixed speed cameras in Norway will always photograph you from the front. It goes without saying that many Norwegian motorcyclists take advantage of this…
Of special interest to motorcyclists is the sign "Overtaking forbidden" (or crossing a double line): Although the sign shows two cars, don't be fooled. Cars may not overtake cars, cars may overtake motorcycles, motorcycles may not overtake cars. There sureley must be purely historical reasons for this and it is many years ago that the then Western German traffic authorities tried to change this rule. The rest of Europe, however, did not agree..
Of course, we all know that this is an incredibly stupid rule. In Norway, the rule is strictly enforced and will leave with a fine of NOK 5200 (€630) and no license for between 9 and 12 months.
If you see this sign (and even if you don't see it), pay attention. It means that there is a road crossing ahead and the
Priority to the Right
applies. It means that a driver of any vehicle is required to give way to vehicles approaching from the right. In Norway where many intersections are not controlled with priority signs, this rule causes much confusion and often results in misunderstandings and accidents for foreigners who visit Norway:
If you drive on a road which is not explicitly marked with right of way, you must always stop for traffic which arrives from your right. This rule is strictly enforced and applies even if you are driving on a major road and the traffic from your right is on a minor road.
This rule, although based on the Vienna Convention on Road Traffic in 1968, is unknown to many foreigners. It is not implemented in the UK and Spain where all intersections are marked with give way and stop signs.
Wikipedia
has more on this.
Why is this rule strictly enforced in Norway?
German Wikipedia has the history of this rule:
It originated with the Vikings and their ships and how the rudder was placed because the Vikings, then as now, are mostly right-handed …
| | | |
| --- | --- | --- |
| Year | City | Country |
| 1912 | 15 km/h | 35 km/h |
| 1926 | 25 km/h | 35 km/h |
| 1935 | 35 km/h | 60 km/h |
| 1955 | 40 km/h | 70 km/h |
| 1965 | 50 km/h | 80 km/h |
Source: Wikipedia – Fartsgrenser i Norge (in Norwegian)
Norway differs from most other countries due to the fact that Norway already in 1912 set a maximum speed limit and then, gradually, increased the limits. Other countries started with unlimited speed and later set limits and then gradually lowered them from the seventies and onwards. Here are the common speed limits in Norway from 1912 until today.

Welcome to Norway, the winner of the Burger Prize!
Norway in Detail :

€1 = NOK9.00

Violation

Fine (NOK)

Fine (Euro)

Points

+ 1-5 km/h
800
89
0

60 km/h and lower

+ 6-10 km/h
2 100
233
0
+ 11-15 km/h
3 800
422
2
+ 16-20 km/h
5 500
611
3
+ 21-25 km/h
8 500
944
3

LICENSE

+ 26 km/h and more
Heavy fine
–
Community work(2


highest number for limit 60

+ 42 km/h
+ 50 km/h
Minimum 30 hours
–

JAIL




highest number for limit 60

+ 46 km/h
+ 55km/h
Minimum 18 days
–
+ 1-5 km/h
800
89
0

70 km/h and higher

+ 6-10 km/h
2 100
233
0
+ 11-15 km/h
3 400
378
0
+ 16-20 km/h
4 700
522
2
+ 21-25 km/h
6 400
711
3
+ 26-30 km/h
8 500
944
3
+ 31-35 km/h
10 200
1133
3
90 km/h and higher
+ 36-40 km/h
10 650
1183
3

LICENSE

(1


highest number = Motorway Class A

+ 36 km/h and more


+ 41 km/h and more

Heavy fine
–
Community work(2


highest number for limit 100+

+ 50 km/h
+ 55 km/h
Minimum 30 hours
–
JAIL


highest number for limit 100+

+ 55 km/h
+65 km/h
Minimum 18 days
–
1) the lowest number is for "motorway" Class B (single lanes, no crossing traffic), the highest for motorway Class A (double lanes)
2) In 2007 it became practice to sentence the guilty to community work when the speed just surpassed the old limits. This means that you serve anything between 30 and 420 hours in unpaid work that is deemed good for society.
Official source: Lovdata: Forskrift om forenklet forelegg i vegtrafikksaker. (Norwegian only)
For the official rules on license withdrawals, see Lovdata: Forskrift om tap av retten til å føre motorvogn (Norwegian only).
Values in Euro are approximate.
Points / Prikker:
In Norway you start with zero points and lose your license for six months when you have accumulated eight points in the last three years. When you get your license back you start with 0 points.
In addition to the speeding offences above, these offences will reward you with three points:
Driving on a red light
Dangerous overtaking
Jumping a 'give way' or 'stop' sign, not giving way for traffic from your right, not stopping for pedestrians crossing/or trying to cross a pedestrian crossing
Crossing a solid or double-solid line
Driving with a too small distance to the vehicle in front of you
Driving with a trimmed motorcycle or moped
Failure to secure passengers under the age of 15
The official rules on Norwegian points (Norwegian only).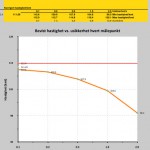 After driving in Norway for more than forty years I do, of course, have stories to tell (I once did 142 kmh on a Norwegian motorway with a jail limit of 140 kmh).
New, however, was my experience in 2012 :
I found that Norwegian traffic police have for more than thirty years, despite warnings, used a method of speed measurement that has made thousands of innocent drivers lose their license and put some of them to jail
– or pay a too high fine.
Read more on this in my blog
.