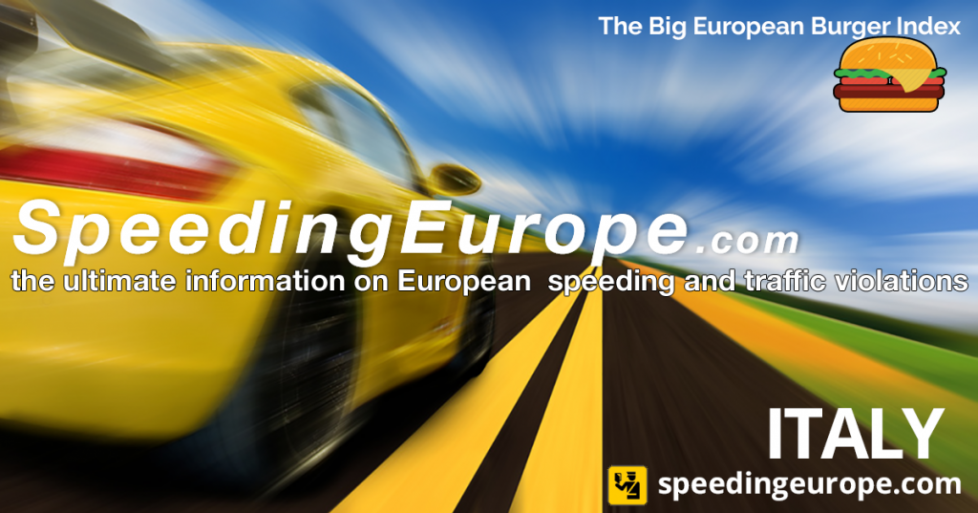 Last update 22.4.2019 | First published 24.5.2004
Italy, like Spain, has both an easy and a very flexible system, especially when it comes to the practical police work
The official speed limit on Italian motorways is 130 km/h, but you will soon realize that most people ignore this limit and drive as fast as the engine will let them.
Index : 91% of European mean value
The important numbers :

Limit – km/h

50
90(1
110(2
130(3
Fine +21km/h
€143
€143
€143
€143
Fine +41km/h
€143
€143
€143
€143

LICENSE (1 – 6 months)

90
130
150
170
1) Reduced to 80 km/h when rain  2) Reduced to 100 km/h when rain  3) Reduced to 110 km/h when rain
TOLERANCE:
5 km/h tolerance under 100 km/h, 5% over 100 km/h.
Speeding and other traffic offences are subject to on-the-spot fines.
Parts of the motorway system is now equipped with average speed cameras:
– Check
Infotraffico
on this (if they also take pictures from the back, you should really be aware of this)
Claudio Piombetti writes (22.4.2005):
– as in several other European countries, precedence is to the vehicle coming from the right, in case there are no signs or traffic lights.
– Speed cameras are often located on the roads taking into towns, usually a few hundreds meters after the first sign stating the speed limit of 50 Km/h. Been caught twice doing 70 and 78 km/h. Also, they take pictures from the back. :o(
– "Carabinieri" are more likely to let you get away with a bollocking instead of a fine. "Polizia" and "Polizia Stradale" (road police) will be stricter. "Polizia municipale" (town police) will try everything to fine you, probably, since the amount of fines produced is part of their performance indicators.
– All police forces have up to five months (150 days) to deliver you the picture taken by a speed camera and the fine. If they fail to send it within this limit, you can refuse payment [old information, this may have changed in the last four years, since I moved to the UK]
Italian definition of a split second :
"the time frame between when the lights turn green and the driver behind you honks his horn at you."
Italy in detail :

Violation(1

Fine (Euro)

Points

less than 10 km/h
€35
–
+ 11-40 km/h
€143
2
LICENSE(2
+ 41 km/h and more
€357
10
1) 5 km/h tolerance under 100 km/h, 5% over 100 km/h
2) 1-6 months
Fines and reactions may change without any warnings.
About points:
In Italy you start with 20 points and receive a bonus of 2 points for every 2 years of correct behavior, with a maximum of 30 points.
Your license will be revoked when you are down to zero points. If 20 points are lost within a year the person is suspended from driving in Italy for a period of 2 years; if the person loses the entire 20 points within a timeframe of 2 years, then they are forbidden to drive in Italy for a period of 1 year; and if the total of 20 points is lost within 2 and 3 years, then the person is forbidden to drive in Italy for a period of six months.
Italian authorities record all infringements committed by foreign motorists. The punishment for foreign drivers having built up 20 penalty points in 1-year time is a 2-year ban from driving in Italy. In case they have built up 20 penalty points in 2-year time the punishment is a 1-year ban from driving in Italy. In case they have built up 20 penalty points in a period of 2 to 3 years the punishment is a 6-month ban from driving in Italy.
In addition to the speeding offences above, these offences will reward you with points (there are many more):
Driving on a red light – 6 points
No seat-belts – 5 points
Drive in the left lane, when the right lane is free – 4 points