Last update 7.7.2019 | First published 24.5.2004
Speed limits are understandable, fines and reactions are mild.
Their number of road fatalities are low compared to the rest of Europe.
Index : 71% of European mean value
Important numbers :

Limit – km/h

30
50
80
120
Fine +21km/h
€150
€150
€50
€50
Fine +41km/h
€250
€250
€150
€150
LICENSE (1 – 3 months)

71
91
141
181
JAIL (3 – 6 months)

91
111
161
201
All speeding fines and reactions are summarized on this page.
The official fines are double of those shown above
If you have a spanish identity card (for foreigners this is NIE – Número de Identidad de Extranjero) you are wise to pay all fines within 20 days, you will then be given a discount of 50% – except for very serious offences. This also goes for payments on-the-spot.
If you do not have a spanish identity , all fines are to be paid on-the-spot. If you do not pay, the police may take your vehicle as security.
You can pay online via the DGT website:
Goto www.dgt.es
Under Tramitas y multas select "Ha recibo una multa de trafico"
Click Pago de Multas
Click Pago de Multas sin Certificado Digital
Fill in the necessary information
You may go to jail for excessive speeding in Spain: Speeding exceeding 80 km/h over the legal limit in motorways, or exceeding 60 km/h over the legal limit in city roads will be penalized with either imprisonment or a heavy fine based upon your salary or social works, and with deprivation of the driving licence for up to 4 years.
art. 379.1 del Código Penal (conducción a velocidad excesiva): El que condujere un vehículo de motor o un ciclomotor a velocidad superior en sesenta kilómetros por hora en vía urbana o en ochenta kilómetros por hora en vía interurbana la permitida reglamentariamente, será castigado con la pena de prisión de tres a seis meses o con la de multa de seis a doce meses o con la de trabajos en beneficio de la comunidad de treinta y uno a noventa días, y, en cualquier caso, con la de privación del derecho a conducir vehículos a motor y ciclomotores por tiempo superior a uno y hasta cuatro años.
CROSS-COUNTRY FINES:
Member of the European cross-country fine cooperation. Any traffic fine may arrive at your home address.
Fines may automatically be shared between Austria, Chech Republic, Cyprus, Denmark, Estonia, Finland, France, Germany, Hungary, Netherlands, Latvia, Lithuania, Luxembourg, Norway, Poland, Portugal, Romania, Slovenia, Spain, Sweden and United Kingdom.
It is forbidden to carry any instrument that hinders the policework (radar detectors, radar jammers). This will be rewarded with a fine of €200 and a loss of three points. A radar jammer is considered a serious offence and will be rewarded with a fine of €6000 and a loss of six points.
The active use of a mobile phone will cost you €200 and a loss of three points.
These rules are part of
the new traffic law from May 2014
.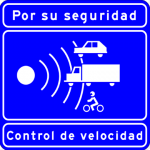 There are plenty of Spanish speed cameras.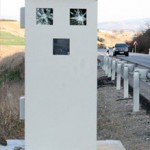 The boxes are painted gray and often not easy to see. They all photograph from behind. You will find an interactive map of all the cameras at mapas.race.es (in Spanish, click on "Radares" at the top).
Some cameras are linked in pairs and will calculate your average speed for a distance – without any warning.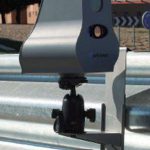 In 2018 a new kind of mini speed cameras were introduced
to the arsenal of Guardia Civil Trafico. They are very small and very difficult to see. They are called
Velolasers
and so far almost 200 are in work on Spanish roads. You will
find more here
.
You will not know about your fine and penalty points until you receive a letter in the post. If you decide to ignore the fine it does get interest added and the authorities come down very hard on you and ignoring fines can cost a lot of extra money.
You can pay via the net, but it is complicated. There are two steps. First you must confirm the driver. Then, after a while, you will be able to pay. And it is all in spanish. You pay at Dirección General de Tráfico.
Spain (and Portugal) have implemented
speed triggered traffic lights
. Some traffic lights in urban areas will turn to red early if a car is detected travelling above a preset speed on the approach. There are no warnings – and no fines. A brilliant idea in urban areas? This way you save time by following the limits – and make a fool of yourself if you don't know. The locals do …
You will find
a discussion on this here
.
In Spain you are allowed to exceed the speed limit while overtaking. According to the General Highway Code (Article 51): "The maximum fixed speeds for conventional roads which do not pass through urban areas may only be exceeded by up to 20kph by saloon cars and motorcycles whilst overtaking other vehicles travelling at lesser speeds."
This does not, however apply to motorways, dual carriageways, or in towns or on roads with special limits different from the standard limits for this type of road.
Spain in detail :

→ the complete list summarized on one page

Speed

Fine (Euro)x

Points

30 km/h

31-50 km/h
50
–
51/60 km/h
150
2
61/70 km/h
200
4

LICENSE

(1
71/80 km/h
250
6

LICENSE

(1
more than 80 km/h
300
6

JAIL

(2
more than 90 km/h
6-12mf(3
12

50 km/h

51-70 km/h
50
–
71/80 km/h
150
2
81/90 km/h
200
4

LICENSE

(1
91/100 km/h
250
6

LICENSE

(1
more than 100 km/h
300
6

JAIL

(2
more than 110 km/h
6-12mf(3
12

80 km/h

81-110 km/h
50
–
111/130 km/h
150
2
131-140 km/h
200
4

LICENSE

(1
141-150 km/h
250
6

LICENSE

(1
more than 151 km/h
300
6

JAIL

(2
more than 160 km/h
6-12mf(3
12

120 km/h

121-150 km/h
50
–
151/170 km/h
150
2
171/180 km/h
200
4

LICENSE

(1
181/190 km/h
250
6

LICENSE

(1
more than 190 km/h
300
6

JAIL

(2
more than 200 km/h
6-12mf(3
12
x) The official fines are double of those shown here.
By paying on-the-spot or within 20 days as a local you will get the fines shown here.
1) 1-3 months.
2) Jail 3-6 months or fine equal to between 6 and 12 months salary or between 31 and 90 days of community work. You will lose your license for between one and four years. This is stated in art. 379.1 del Código Penal (conducción a velocidad excesiva).
3) Monthly fine, equals one month salary.
Fines and reactions may change without any warnings.
Please report any corrections or errors below.
| | |
| --- | --- |
| Limit | Corrected |
| 30 km/h | 37 km/h |
| 50 km/h | 57 km/h |
| 80 km/h | 87 km/h |
| 100 km/h | 109 km/h |
| 110 km/h | 120 km/h |
| 120 km/h | 131 km/h |
TOLERANCE:
There is a margin of error in all radar measurements, both fixed and mobile. On roads with a speed limit between 30km/h and 90 km/h, the drivers can be fined when they drive more than 7 km/h over the limit. On roads with speed limits of 100 km/h or more, the margin of error is 7%.
In addition, all mobile radars will now be visible to the drivers. The aim is to make drivers respect the limits (other countries often try to hide their mobile checkpoints).
The Spanish Traffic Police (
Guardia Civil Trafico
) in Torrevieja on the southern coast has set up up its own
Facebook page
named after the main national road in the district, the N332. It is in English and they publish tons of useful hints and information almost every day. To foreigners, whether you live here or not, this is
the best source on Spanish traffic rules and how it is practiced
. And they even have a
website
.
Highly recommended
Points / Puntos:
You start with 12 points and lose your license when you are down to zero. Click here to see the complete list on Spanish traffic points from DGT (in Spanish).
Here is a summary of points not related to speeding:
Six-point deduction

Drunk driving (over 50mg per 100ml)
Refusing to take a drug or breathalyser test
Reckless driving or participating in unauthorised vehicle racing
Driving in the wrong direction
Manipulating the speed limiter function
Driving vehicles using a radar inhibitor devices (radar jammer) or traffic monitoring systems
Four-point deduction

Drunk driving (over 25mg per 100ml)
Not stopping at: red light traffic signs and Stop signs, and priorities of passage, as well as failure to follow the signals of a traffic police officer
Discarding objects that may cause accidents, fires or obstruct circulation
Dangerous overtaking
Driving with a withdrawn driving licence or driving a vehicle which has been removed from circulation
Reversing on motorways and expressways
Failure to keep a safe distance from the vehicle in front
Reversing on motorways and expressways.
Three-point deduction

Driving without lights in poor visibility
Using a hand-held mobile phone or wearing headphones while driving
Not wearing a seatbelt (or helmet when riding a motorcycle)
Doing a U-turn which does not comply with the law for Road
Safety
Use of radar detector
Two-point deductions

Stopping on a bend or in a tunnel.
Justlanded.com explains how to get your points back:
Drivers who lose all their designated points automatically lose their licence. To regain their licence, drivers must retake the driving test and take a driving course of around 30 hours. These tests cannot be taken until at least six months after the last driving offence and can be taken only once every two years. Those who have lost points but still have credit on their driving licence regain their points two years after their last offence. Good drivers with no points lost receive an additional two points after three years and a further point after four years, giving them a maximum of 15 points.
If you get penalty points on your license this will often up your premium on your car insurance in Spain, so it is a good idea to try to avoid picking up the points.